Borewell Column Pipes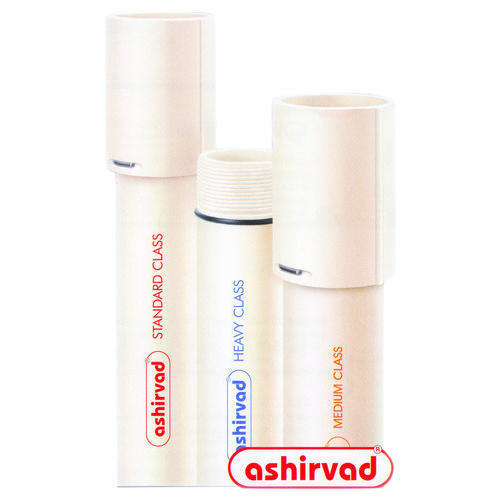 Borewell Column Pipes
Product Description
Ashirvad has a unique locking system of the pipe and coupler assembly, in which a stainless steel wire is wound between the coupler and pipe to ensure that during installation and removal of pumps the joint does not open up, resulting in column slippage.
ADVANTAGES OF ASHIRVAD uPVC RISER / DROP PIPE
Long Life
No rusting, corrosion or deterioration
Light in Weight
Easy Installation
Cost Saver
Power Saver
10 to 30% extra water* discharge compared to steel pipes
No Electrolytic Deposition
TECHINICAL FEATURES OF ASHIRVAD uPVC RISER/DROP pipes
For Extra pump safety
Design Registered – Patent registered in India ,Europe, South Africa & Nigeria
Wire lock coupler design : (WIRE LOCK : For your Pump Safety)
The pipes are joined together by a coupler. The couplers are fitted on the pipe sizes from 33mm OD (1″) up to 165 mm OD (6″). The couplers are locked with special stainless steel wire to ensure that during installation and removal of pumps the coupler does not come out, resulting in column slippage. The wirelock system with the unique design made only by Ashirvad Pipes is a further development of the product.
SQUARE TYPE THREADS
The joint of pipes have been specially designed with square threads to ensure proper gripping and no chance of slipping. These threads are high friction threads on load, which do not open even on constant forward and reverse torque generated by starting & stopping the pump. They are made on specially imported CNC machines with high accuracy tools to ensure perfect dimensions and good & easy fitment. All threads are checked thoroughly with fitment gauges to ensure 100% accuracy.
RUBBER RING
An outer rubber ring is provided in the T (Temporary) side of the pipe and an inner rubber ring is provided in the P (Permanent) side of the pipe, which ensures a 100% leak proof joint.
BI-AXIAL ORIENTATION
Bi-axial orientation during column pipe extrusion : Ashirvad has developed a unique Bi-axial orientation technique used during pipe extrusion, which gives higher drop impact and notch impact strength to the pipes. This orientation technique is a result of constant Research and Development at Ashirvad only.
THICK & THIN
Unique thick & thin construction of pipes : This innovative technique for making pipes thicker in the threading end to compensate for material removal due to threads is an innovation made only at Ashirvad.
The residual thickness(t) in the end part after removal of thread is the same as barrel thickness (t), Therefore the pipe strength remains the same.
This technique saves on the raw material consumption and at the same time provides much higher strength to the pipes.
SPECIAL FORMULATION
Ashirvad high tensile, high impact Drop / Riser pipes are made with specially designed formulation, so that pipes are capable of handling both internal hydro static pressure as well as vertical tensile load on the pipes due to the column water and pump weight. The special formulation ensures that the threads do not get brittle and break / chip even after loosening and tightening several times during the life span. Special raw materials are used and processed with the latest extrusion technology to make these pipes.
DUAL FUNCTION OF ASHIRVAD DROP / RISER PIPE
Ashirvad Drop / Riser pipes have a dual function to perform. On one hand it has to withstand the pump delivery hydro static pressure, which is maximum in the first pipe connected to the pump and may be as high as 35 Kg / cm2 and on the other hand, the top most pipe bears the load of the entire column filled with water & pump which may range up to 2 tons. This dual type of loading application makes this product unique and requires special manufacturing techniques which is available only with Ashirvad Pipes (P) Ltd. – Bangalore.
Contact Us
B No. 24 & 43, Siddhivinayak Estate, Nr. Astha Complex, Ahmedabad, Gujarat, 382415, India
Phone :+918071859195598